Civil Engineering is the oldest engineering discipline. Civil Engineering addresses to all aspects of the infrastructure facilities necessary for modern living in housing, such as buildings, transportation systems water supply and waste-water treatments, environmental protection, urban development, sewage treatment.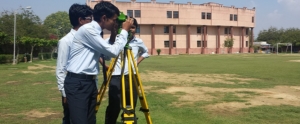 Best civil engineering colleges in jaipur
Along with these core sectors of civil engineering, there are allied sectors like thermal and hydropower plants, off-shore projects, mining projects, telecom sector, space program, & nuclear power plants which invariably require services of civil engineers. Civil Engineering actually plays the role of nation building. The versatile branch of civil engineering is often referred to as evergreen branch as all new graduates do find some kind of job . Best civil engineering colleges in jaipur The branch offers a wide range of career option in department of Railways, CPWD, Military Engineering Services (MES), State Bridge Corporations, State & Central departments services like Rajasthan State Road Transport Corporations, Town Planning, Zila Parishads, Municipal Corporation, and Public sector undertakings like BHEL, NTPC, ONGC, Nuclear Power Plants, Electricity boards etc.